From concept to reality | The story behind The Candle Maker
emilyw
They say many a great idea is born in the kitchen. Well it was late 2016 and I was busy making a couple of soy candles for a friends birthday…..The pot was on the kitchen stove with water bubbling away and steam slowly filling the air, a pyrex jug full of soy wax flakes was sitting inside said pot of water and steam. As I'm waiting….waiting for the wax to melt to the perfect temperature before adding my fragrance…..I glanced across at the medley of candle making equipment that was cluttering up the kitchen and I thought to myself "surely there must be an easier way to make a couple of candles"!
Now, I've made quite a few candles in my time, but more importantly I've helped thousands of others to make literally millions of candles. I know how wax works, how important temperature management is and how to 'fine tune' a recipe' to really get the fragrance humming! I also know the challenges that face beginners on their candle making adventures and the frustration of trying to achieve silky smooth tops but getting a lumpy mess. But could I come up with a way to make a perfect candle, in half the time, and with no bulky equipment to clean? Well, as it turns out, yes I could!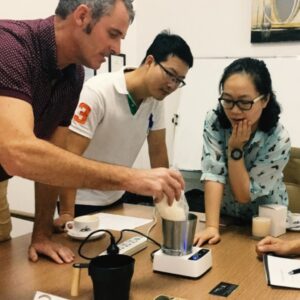 I spent the next year working hard to bring my invention to life; I hired some great local talent and embarked on hundreds of hours of research and development. Testing, improving, and investing! Ultimately creating a world-first product and an exciting new brand within the home fragrance market.
All of this with one goal in mind, to make candle making easy!
Then, on November 27th 2017, we switched on the chandlerandme.com website and guess what? We made our first sale, and then another! A product that had never existed in the world 12 months prior was now here, it was real, and people were buying it! It was almost like bringing a baby into the world and the sense of accomplishment was exhilarating.
But the best feeling was yet come.
As we took our candle making machine to the world
I had no idea of the feedback we would receive,
some of which was truly humbling.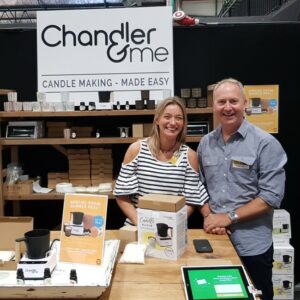 We took the show on the road, first to small expo's in New Zealand and then to larger ones in Australia and beyond. Once we started selling more and more Candle Making machines the feedback started coming in. Customers were constantly telling us how amazed they were with the simplicity of the unit, the quality of the candles and that the clean up was so easy. We had really hit the nail on the head!
But it was feedback on a much deeper level that I was totally unprepared for.
Customers began sharing very emotional and meaningful stories with us. One lady told us how she had been losing touch with her young son but that they now really enjoy making candles together. She said it was the first time she has bonded with her boy for a long while.
Many customers have told us that the calming process of making candles, combined with the smell of the scents, has been a form of therapy during some difficult times.
And yet more people have shared how a particular scent has brought back long forgotten, special, memories. Moments in time brought back to life.
As I began to hear more of these stories I realized we had created something far more than just an appliance for making candles at home. The Candle Maker enables people with no skills what-so-ever to enter a creative zone that has touch points on many levels….smell, light, flame, memories, moments, sharing, and gifting. This has had a profound and rewarding effect on me and I still love hearing these stories.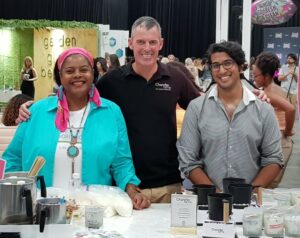 As the saying goes "we've come a long way together" since those early days in the kitchen. We've now sold thousands of Candle Makers and after listening to customer feedback we continue to refine our product and introduce new ones. We have begun introducing new ingredients packs so you can not only make candles but soy tea lights, soy wax melts, and there's more to come!
I want to thank all of our customers for supporting us to get this far. All the feedback, the encouragement and the honesty has been amazing and we are constantly learning together on this journey.
Keep being creative, being kind, and always take time to smell the wonderful scents that make up your life.
Brian Simpson
Founder and Creator of Chandler & Me