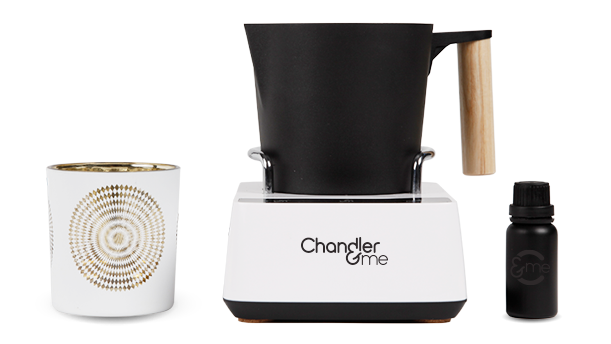 Introducing The Candle Maker
The Candle Maker is the easiest way to make retail-quality soy candles at home. With no experience and no fuss you can make beautiful scented candles in just 20 minutes. Enjoy smooth tops, great scent throw, and the satisfaction of creating natural soy candles for home, gifts and more. Start your candle making journey today, it's so easy!

Make beautiful candles the easy way
Start with The Candle Maker and keep creating with our kits and projects
From our happy crafty customers
Fantastic! Made over 10 candles now and it is so easy to us the Chandler & Me Candle Maker. Definitely recommend if your just getting into candle making; this makes it so much more simpler. The unit itself is smaller than i expected but this is a good thing, its so compact it takes literally no space on your worktop, and is very easy to pack up and put away if not in use. Now that I'm more confident making candles I'll definitely uograde to the larger one soon in addition to this size. It's been great, thanks so much!
This product is quite outstanding. Apart from doing an extremely efficient job and making the process so easy and safe, It is a remarkably compact little unit. At first I was frankly skeptical that the funny little button thing in the bottom of the jug would be capable of stirring and efficiently mixing in the fragrance, but my doubts were quickly dispelled. This gadget is an absolute gem!
I purchased the Candle Maker + Plus Starter Kit. Simple to use. Easy to clean. Efficient time-wise. Complete beginner = Professional result. Pretty candle jar, great for last minute gifts of gratitude.
I love my candle maker, I have made lots of unique candles since receiving my candle maker. I enjoy second hand shopping and buying pottery vessels, china cups etc for my candles. Great for my home, gifts for friends and family. My candle maker is very safe to use. This Sunday I have my sister and niece coming over for a candle making afternoon, cant wait. Safe and easy to use for the whole family.
When I tell you game changer. It does all the work really, all I have to do is wait for the beep to add fragrance oil and pour. That's it's it. It does the stirring and mixing for me. This is also great to travel with because of it's small size. I can make candles else where if I need to. Love it so much, I had to wait for a restock to order another on!
Great robust machine. Candle making has been easy and stress free… I have made a lot of candles and melts with the Chandler & Me. Put your SOY wax in push start and it buzzes at each stage to add fragrance, then when it's time to pour. Produces high quality scented candles and melts. Excellent for beginners. Buy this you'll be glad you did. Fantastic invention for the price.
Learn and Create Candles at Home
Our classes are perfect for the beginner wanting deeper knowledge
Extend your candle range
The Candle Maker doesn't just make soy candles it can also make soy tealights, which can be used as decorations or with soy melts.
Grab a 6 pack and start creating
Our 6 pack candle making kit is ideal for making candles and giving them away as gifts. It comes with everything you need to make 6 beautiful soy candles.
"(Required)" indicates required fields