How will you celebrate Halloween?
emilyw
Embrace the festivities and make candles!
Jumping in piles of crisp, golden leaves; admiring the red, orange, and golden hues as you go for your evening walk; fruit trees ripe with juicy apples; baked goods and candy; dressing up as your favourite character; and, adorning your home and neighbourhood ready for trick or treaters; there's plenty to appreciate and enjoy in Autumn!  
For nearly 2000 years, people all over the world have come together on October 31st each year to celebrate Halloween. There are many cultures with different traditions and ways of celebrating Halloween; and yet there are some aspects that remain universal throughout the years, with candles being one of them. Today, we love candles for their scent and the atmosphere that they bring to our homes; especially during special festivities such as Halloween; but there is a lot of history and sentiment behind candles that has remained a constant throughout the years. 
The origins of Halloween date back to the 19th century in Ireland; back to the ancient Celtic festival of Samhain. Candles were lit in every room of the house to guide spirits home. This is a tradition that has continued to this day; and who could imagine celebrating Halloween without candles? Candles can signify warmth, guidance, communication, and light. And now you can make your own beautiful soy candles at home with The Candle Maker.

Limited edition Hocus Pocus fragrance oil
You can dim down the lights and have a range of ambient candles scattered around your home and front porch using our 6 Pack Candle Making Kit. With a range of candle jar designs you can create the perfect look using the black autumnal leaf jar or the black mandala jar.
Get soulful with the musky notes in Sandalwood Spice; embrace Autumn fruits with Apple Zest; and what screams Halloween more than our new limited edition fragrance oil Hocus Pocus with warm notes of wild cherry and crisp apples? With our Tea Light Kits you can make 9 tea lights which you can pop into our range of different jars; and let the patterns from the jars create dancing shadows on your walls. Or you can pop the tea lights into carved jack o lanterns to vamp up your pumpkins!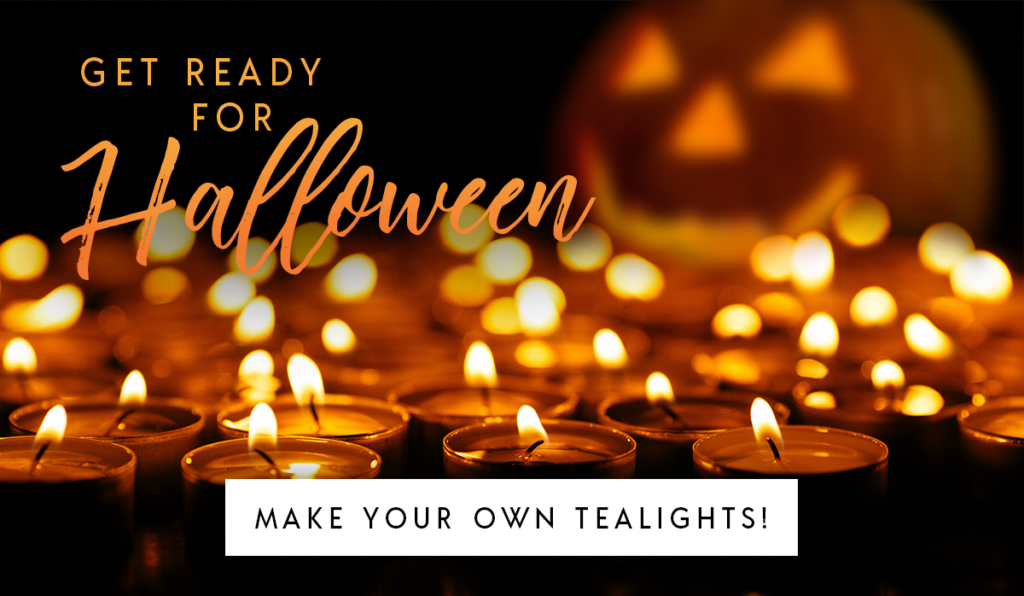 Halloween decor
Looking for a way to put the thrilling final touches on your Halloween decor this year? In need of some spooky inspiration to take your Halloween decor to the next level? Take a look online and get some ideas about how you can recycle some of your old candle jars and recreate some spooky characters using coloured craft paper and stickers! Create a pumpkin in a clear jar and cut out some spooky teeth and eyes or create a ghost or monster. The most important thing throughout all of this is that you have fun. Whether it's a candle, a recycled jar or a tealight take some time, have some fun and then enjoy the evening filled with screams of joy, twinkling lights and scents that evoke memories of times gone by.