4 Incredibly Beautiful Ways You Can Use Candles at Your Wedding
emilyw
Creative candle lighting brings a stunning and utterly sophisticated touch to any type of wedding. From wedding receptions to the wedding aisle and in between, candles have long been a perfect decor for creating that romantic ambiance – not to mention, they are incredibly budget friendly!
Here we've rounded up candle ideas that we think are worth melting for! Check them out and get inspired!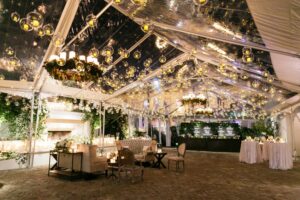 Photo by Greer Gattuso
Stunning Reception Ambience
Nothing makes a romantic ambiance quite like a soft, flickering flame. Candles used in receptions instantly create an enchanting vibe that makes a wedding look magical and special. From taper candles to candelabras, these glowing decors are the perfect way to amp your wedding's elegance and intimacy without going over the top. Think hanging glass candles projecting an amber glow throughout your big day. Candle decors work best on receptions held during dusk hours with the open flame adding a dramatic glow and stunning display to your event. You could even make a unique label for your candles and individualise each with guests names and use them as place holders.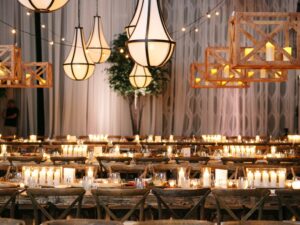 Photo by Kyle John
Romantic Table Centrepiece
The soft allure of a candlelight adds a captivating charm to any wedding tablescape. It's an instant mood setter and a perfect decor in case you're looking to create a romantic table lighting with limited budget. When decorating your tablescape with candles, make sure to have soft candle lights that are intimate but not too bright. We can even add colour to your candles to match your wedding day theme or make a fragrance that complements your floral bouquets! For a centrepiece idea, go for a style that matches your wedding theme. If you're after a glamorous tablescape, you can, for example, go for candelabras placed at the end of your tables to create a subtle elegance or surround the candlesticks with bright blooms for a stunning look.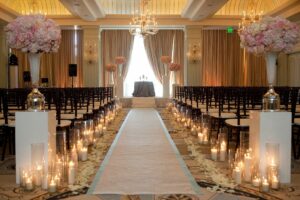 Photo by weddmagz.com
Light up the Wedding Aisle
Whether in a church, countryside, beach or backyard, there's no denying that candle-accented wedding aisles make the bride and groom's entry look more magical! Imagine the open flames flickering softly as the bride walks to the altar, the stunning light casting a captivating glow on everyone's faces! It's like a fairytale-scene brought to life! The timeless, classy, and dreamy vibe of candle lights definitely bring a charm that's unlike any other! Candlelight decors on wedding aisles are perfect for night weddings or on beach weddings, complimenting the slowly dimming hues of the setting sun.
Candles as Wedding Favors
What better way to spread the romance of your big day, than with keepsake guests can use on a romantic night or day of their own? Candles make great favors as they are useful and easily personalised. Not only are they a nice addition to home decors, they're also something that make guests remember your wedding everytime they light it. At Chandler and Me, we have different signature candle fragrances that you can choose from and enjoy gifting to your favorite persons! Simply purchase the candle maker plus however many candle making kits you need and then make that special candle for your bridesmaids or new mother in law! Each candle kit comes in a beautiful gift box and you can personalise each jar and fragrance to suit your guest – the perfect gift.